Add Chrysalis to your Wishlist and play the free demo on Steam
Join our Discord server to chat with other players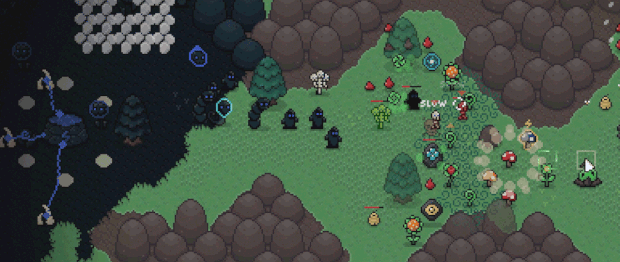 Defend your Chrysalis from growing hordes of monsters in this hybrid game that combines elements of tower defense, survival, and roguelike RPGs. Explore procedurally generated levels, possess and control animals, and grow deadly gardens. How far can you get before the next wave of monsters?

Key Features:
Tower Defense Roguelike Hybrid: Navigate dynamic, changing environments while strategically building up your defenses. Items you find while exploring have synergistic effects on both your creatures and your plant-based defenses.
Symbiosis: take control of any friendly plant or animal in the game.
Metamorphosis: level up your creatures and plants, transform them into more powerful versions, and apply elemental Spirits for further customization.
Mutation: a complex mutation system combines different species to create new creatures with unique sets of abilities and metamorphoses. You'll still be finding new creatures with new abilities after dozens of playthroughs!
Customization and Randomization: at the beginning of each playthrough, you choose a Chrysalis that caters to a specific style of play, with unlockable abilities that increase your power as you progress. By defeating waves of monsters, you will earn random Boons which grant additional passive or active abilities, offering further ways to enhance your controlled creatures.
Procedurally Generated Levels: No two levels are the same - there are endless possibilities each run!
Permadeath - with a twist: If a creature you posses with Symbiosis dies, the Wisp survives and can possess a new creature. But if your Chrysalis is destroyed, the game is over - it's time to use the knowledge you gained to start a new playthrough!
Save Anytime: you can save the game at any time and the entire state of the current level is stored, so you can pick up right where you left off!
Modability: add new creature and plant species, abilities, art, and more by simply editing text files and dropping your images into the appropriate folder. Specific instructions and documentation will be forthcoming.